Be a Gift Sponsor at the DMFB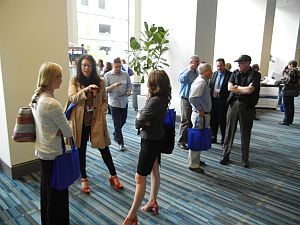 Get your brand and/or product in front of 1,100+ small businesses owners and marketing professionals. Place marketing products, services, gift cards, etc. in the swag gift bags to be distributed to all the DMFB conference attendees.
There is NO COST for Companies to submit a Marketing Gift with a $20+ value!
SWAG Bag Gift Sponsor Program:
Companies can sponsor SWAG (gift) bag which is provided to 1,100+ attendees.
SWAG bag gift sponsors provide a marketing service gift and receive an insert into the SWAG bag (normally $150) and a listing on the SWAG sponsorship page.
SWAG Bag Gift Sponsor Details:
– Gift Value – $20+ value for each recipient
– Unique Offer – different than is a standard trial offer
– Purchase Not Required – registration requirement is acceptable
SWAG Bag Gift Sponsor Receives:
– Literature Insert – yours or ours
– Sponsor Listing – on DMFB website with backlink
– Social Media Posts – we announce
Examples of SWAG Bag Gifts:
– Internet Advertising Credit
– Software Program
– Social Media Management Service (30 to 90 days)
– 20 Stock Photos
– 2 Months of Web Hosting
Interested in sponsoring the DMFB with a Swag Bag gift?